I've been working away at a Tangled/Rapunzel piece for my daughter's birthday. I've worked on it off and on since late last year, but the past 2-3 weeks I've really given a push to see some progress made.
It's a fairly innocent looking piece....it lies.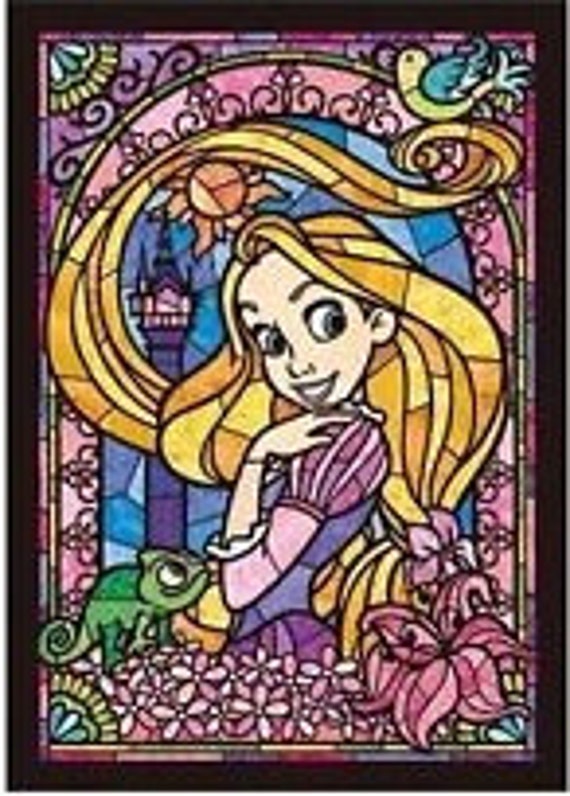 As you can see, it's Rapunzel done in stained glass. My first intention was to have it done by Christmas last year. Nope, that didn't happen. This pattern is so chock full of 3/4 stitches. I swear that for every three whole stitches there is a 3/4 stitch. And of course I chose a fabric that doesn't like to split. So it's been a real challenge that I have put down several times just to save my own sanity.
But I decided the week before my last retreat I would work on it exclusively for that week - just to try and get to the point where I felt like I had made progress. Because up until that point, no matter how much I worked on it, it felt like trying to run through mud. But, working on it and only it for that week did the trick. I got past my mental block with it and could actually, for the first time see and feel progress. So that made me want to work on it even more. So after I got home from retreat, this is all I've been stitching on.
My plan for the past few days was to work my way down on both sides before finishing the middle, just so I could make sure my borders would meet properly. Every step of the way, everything was coming out just fine. Or so I thought. Last night I got to the bottom point on both sides, just certain they would meet.
You see where the purple ends on the left? Right next to the blue? Now you see how far down the purple goes on the right? Those should fall onto the same line. They are one line off.
So I've thought about what to do. If I work my way up from the corners, that's going to push the mistake up into her body area and I don't want to have to try and fix a mistake there. But if I stop where I'm at on the corners and work my way down from the middle, I think I can probably fix the issue easier at the bottom. There are a lot of flowers there and I can hopefully add a line in the blocks of color there. So for now at least (unless I come up with something better) that's the plan. I've worked on this so much lately that I'm starting to burn out and a part of me wants to put it down again. But at the same time, now that I know there is a problem/issue I *really* want to make sure that gets fixed, so I'm going to keep pushing through.
I have until August before her birthday, so it's not like I'm under a time crunch. But I still really want to see this one done. It's been a challenge the whole way.
And one quick finish to share. This is a Victorian Motto mini sampler and I finished it a few weeks ago. This was a very different kind of stitching for me. But I love the finished product.